European elections

European elections
The European elections, which are held every five years, are the largest transnational elections in the world. Over 350 million(!) people are eligible to vote for the 28 members of the European Parliament (27 with Brexit). That is exactly why the elections do not take place on the same day in all countries. The European elections will take place in 2019 on 23-26 May. The Netherlands will kick off the elections on May 23, followed by Ireland on May 24.
Voting as a non-Dutch European citizen
As a non-Dutch European citizen you have two options to vote. You can either vote in your country of origin by indicating in your country of origin that you would like to vote as a voter abroad (rules may apply) or you can vote in the Netherlands. However, you will not receive your voting card automatically. Register at your local municipality before April 9 with the so-called Y-32 form. When registered correctly, you will automatically receive a voting pass a few days before the elections.

The municipality of The Hague send out this declaration including the Y-32 form: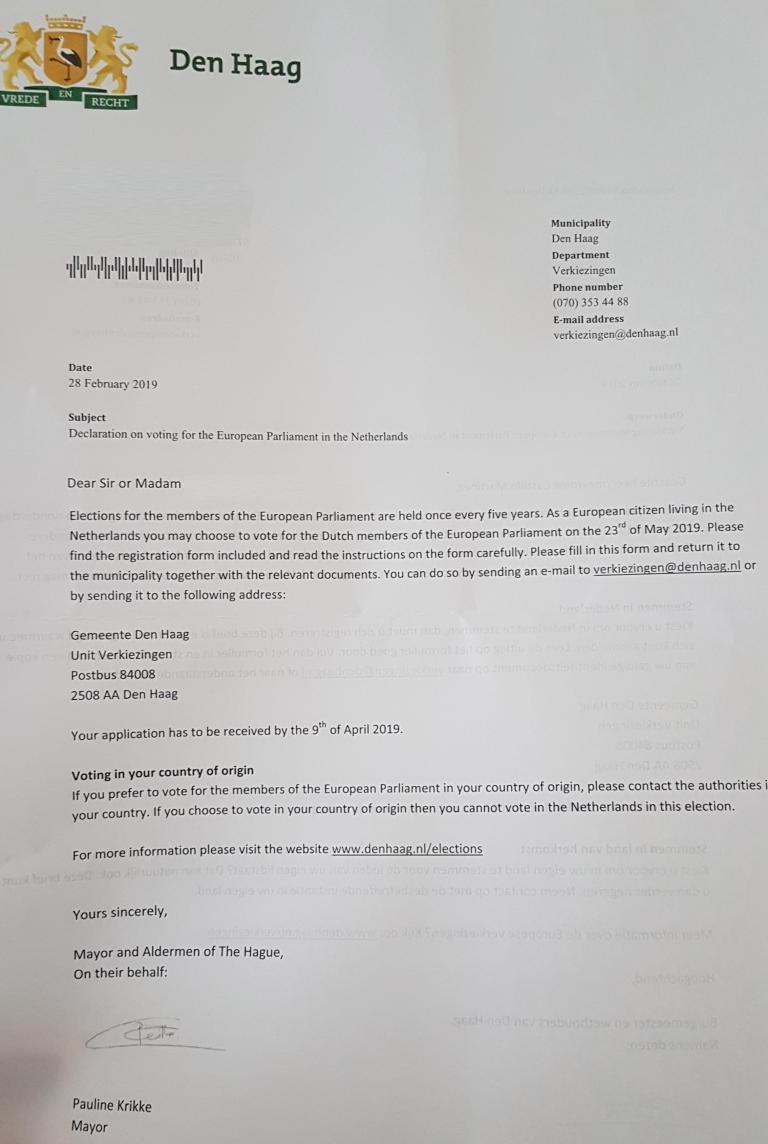 European elections infographic
The European Parliament created an infographic on which all rules and voting methods for citizens resident abroad are shared and explained. If you are uncertain how or where to vote, you can download the 'How to vote' app in the Google Play Store or iTunes store.
Did you know:
Voting is compulsory in six EU countries?
In Italy you must be >25 years old to vote?
Estonia is the only country that allows e-voting?
Voting is the highest form of participation available for citizens of democratic societies?
Why should I vote?
This Time I'm Voting: "As Europeans we face many challenges, from migration to climate change, from youth unemployment to data privacy. We live in an ever more globalised, competitive world. At the same time, the Brexit referendum has demonstrated that the EU is not an irrevocable project. And while most of us take democracy for granted, it also seems under increasing threat, both in principle and practice. That's why we have started building a community of supporters to help encourage a higher voter turnout at the European Elections".
Related articles: