Municipal taxes

Municipal taxes
In February you'll receive a tax assessment from your municipality. The municipal tax bill includes several payments. We will explain the municipal taxes below including the abbreviation used on the municipal tax bill.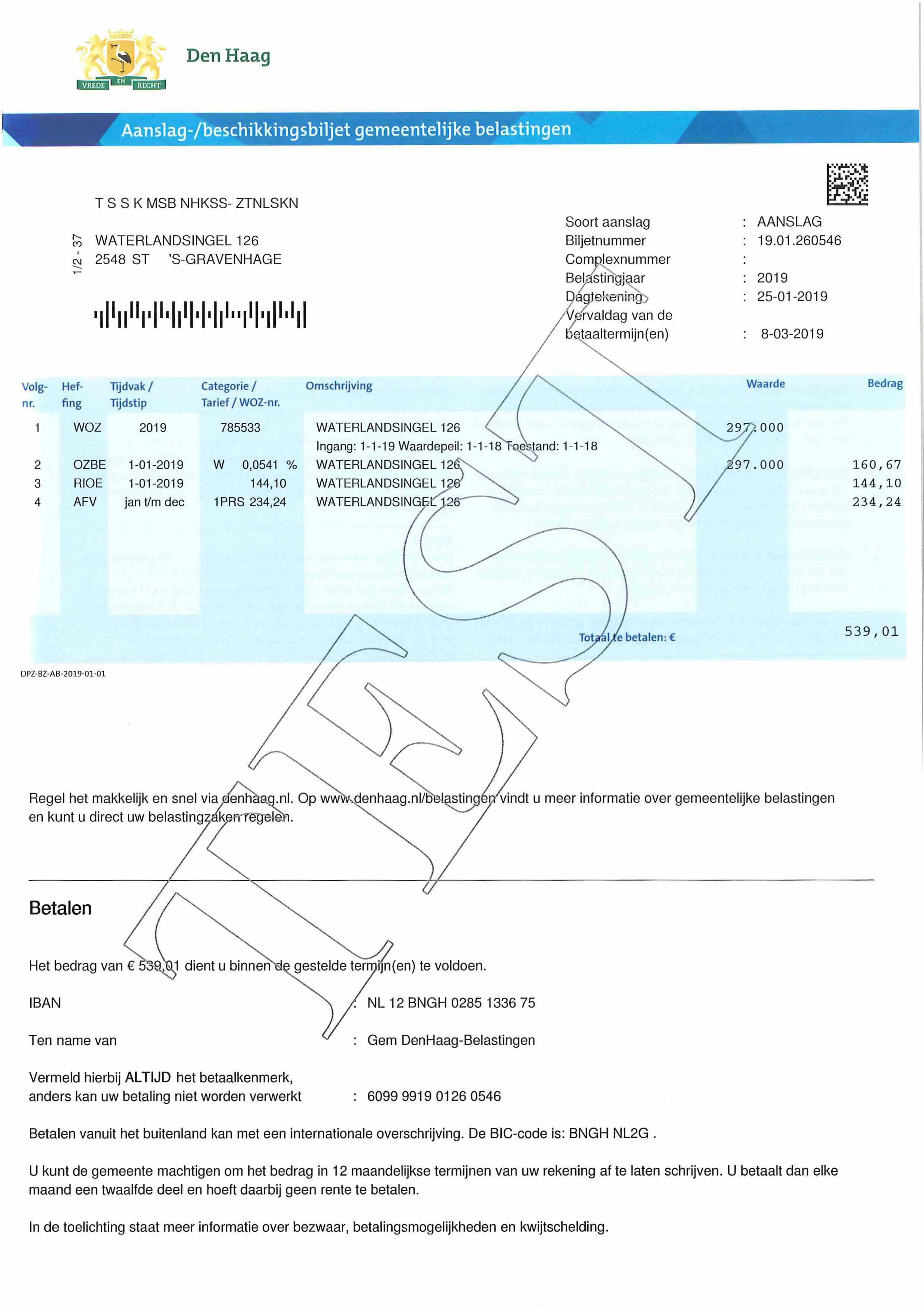 Municipal taxes explained
Sewage taxes
Most houses and buildings are connected to the sewage system. If you own a (moveable) property, such as a home or business premise, you will be charged with sewage costs for owners (RIOE).
Waste taxes
Every week your household waste is picked up by the municipal service. This tax (AFV) will depend on the amount of people living in your household.
Property value
The municipality determines the value of all property (WOZ) in The Hague every year using property appraisals.
Property taxes
If you own any property, such as an apartment, house or business premises, you will be charged with property costs (OZB). There are two types of property: residential properties (OZBE) and non-residential properties, like a shop or office (OZBG).
(Partial) tax exemption
If you are a diplomat or privileged person you are eligible for a partial exemption from certain municipal taxes (but not from charges for services rendered). Exemption can be granted from the 'property tax' and other municipal taxes like dog licenses. Exemption is not available for services like waste and sewage taxes.
These exemptions do not apply if you have the Dutch nationality or you are considered to be a permanent resident of the Netherlands. When in doubt, be sure to contact your municipality about partial tax exemption, as this could also depend on your diplomatic status.
Did the municipality made a mistake?
The tax assessments sent by the municipal tax authorities may sometimes contain charges even though you are exempted from municipal taxes. In such cases, you can lodge an objection with the municipality within six weeks of the date of the assessment. You can file your objection online using your DigiD or in writing.
Local tax calculator
If you're an international looking to move to The Hague region, you can use the local tax calculator (it's in Dutch). With the tool you can easily calculate how much you would pay in local taxes and compare The Hague with other municipalities like Delft, Rijswijk or Leidschendam-Voorburg.
CONNECT
The Hague International Centre organises monthly CONNECT events to help you discover everything you need to know about working and living in The Hague region. Meet the Municipality of The Hague on March 21 and ask all your questions about the municipal taxes at CONNECT - Taxes. Participation is free of charge, but registration is required.
Water Authority tax
Do not confuse the municipal taxes with the Water Authority tax. In January you have received a tax assessment from the Regionale Belasting Groep. The RGB is responsible for collecting taxes on behalf of Delfland Water Authority.
Related articles